The new product line Comtarsia SignOn Solutions 2016 was released on 4th January 2018.
Improved support for Windows 10 and Windows Server 2012 R2 / 2016.
Many internal optimizations and updates for the new platforms.
Internal design changes with Windows 10 required a comprehensive adaptation and further development of the credential provider module (Comtarsia Logon Client).

The SignOn Proxy now offers, like the Comtarsia Logon client, a multi-profile configuration. Any client variable or proxy rule can now switch from the main profile to another profile. This functionality opens up a new dimension in the usability of the central proxy service in complex environments.

Windows Vista, Windows Server 2008, Windows Server 2008 R2 and Windows Server 2012 are no longer supported! The Comtarsia Signon Solutions 2012 is still available for these platforms.
SignOn Solutions 2012 configuration profiles will be taken over by the update process.
SignOn Solutions 2012 client, proxy and agents are compatible with Comtarsia SignOn 2016.
SignOn Solutions 2012 license keys cannot be used.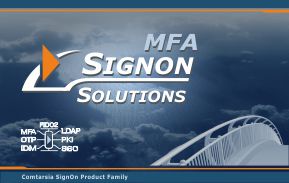 Download Test Version