Web Gateway
The Comtarsia Web Gateway is the universal Single Sign On solution for web applications with user/password respectively Smart Card/Token logon on a web portal.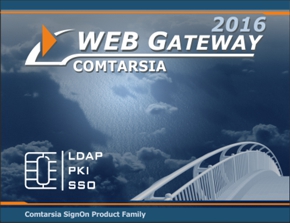 The Comtarsia Web Gateway is a Middleware solution, with which a central authentication against a LDAP or Active Directory and the access to all websites respectively portals is enabled. The product Comtarsia SignOn Gate takes over the automatic user management and password synchronization on all target domains and systems. The central web browser logon via the Comtarsia Web Gateway and the position of trust between the web applications and the Comtarsia Middleware enables a controlled access to all resources in the network with a high amount of security and comfort.

Through the automatic "Session Password Generation" and the synchronization on the user database of the non PKI capable web portals the direct access to the web portal via password authentication is prohibited and only possible via the central LDAP password respectively via the Smart Card / Token logon.


Features

Supported Portal authentication types


Form based Authentication


HTTP Basic/NTLM Authentication


Certificate based Client Authentication


SAML Identity Provider



Supported web server:


Microsoft IIS Version 7.0, 7.5, 8.0 and 10




Authentication via user/password or Smart Card Authentication


Portal Smart Card Authentication also for Web Application without Certificate based Client Authentication support.



Smart Card Features



Individual, per application/workstation configurable, timeout / logout-behavior: After a certain timeout period the user can be prompted to repeat the password / PIN entry or to be redirected automatically to a logout page, or the web browser can be closed.
On the removal of the Smart Card by the user can also be reacted immediately with a predefined action.
Therefore timeouts can be determined for highly security critical applications, which are stricter than guidelines of the local system.




Supported portal user databases



LDAP


Active Directory


Oracle


Local System User Database


Individual Application Database