LDAP Directory Replicator

The Comtarsia LDAP directory replicator enables time-scheduled unidirectional replication of one or more LDAP directories on defined target-directories and target-systems.
Operated as autonomous server-solution, Comtarsia LDAP Directory Replicator can be applied for the replication of the entire LDAP realm or only for random OU's or objects.
In combination with the products Comtarsia Logon Client and Web Gateway, a synchronisation of complete user objects, groups and attribute on chosen target systems, independent of user logons, can be realised.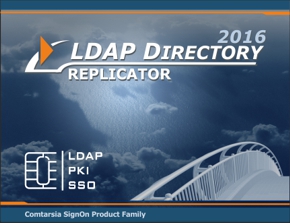 Performance features:



Supported LDAP Servers:



IBM Tivoli Directory Server


IBM z/OS SecureWay (RACF)


OpenLDAP


Sun Java System Directory Server


Novell eDirectory


Active Directory


Lotus Domino


Oracle Internet Directory



Time-scheduled Synchronisation:



Any number of replication jobs can be defined


Any number of source directory servers possible



Flexible Queries:



The object to be replicated can be selected via flexible queries. The whole realm or only defined OU's and/or objects for replication can be defined very flexible